These sweet potato enchiladas, that are filled with healthful ingredients including spinach, black beans, sweet potatoes, and peppers, are smothered in a homemade enchilada sauce. But healthy isn't the only reason to indulge in them. They're Tex-Mex deliciousness. And they just happen to be vegan.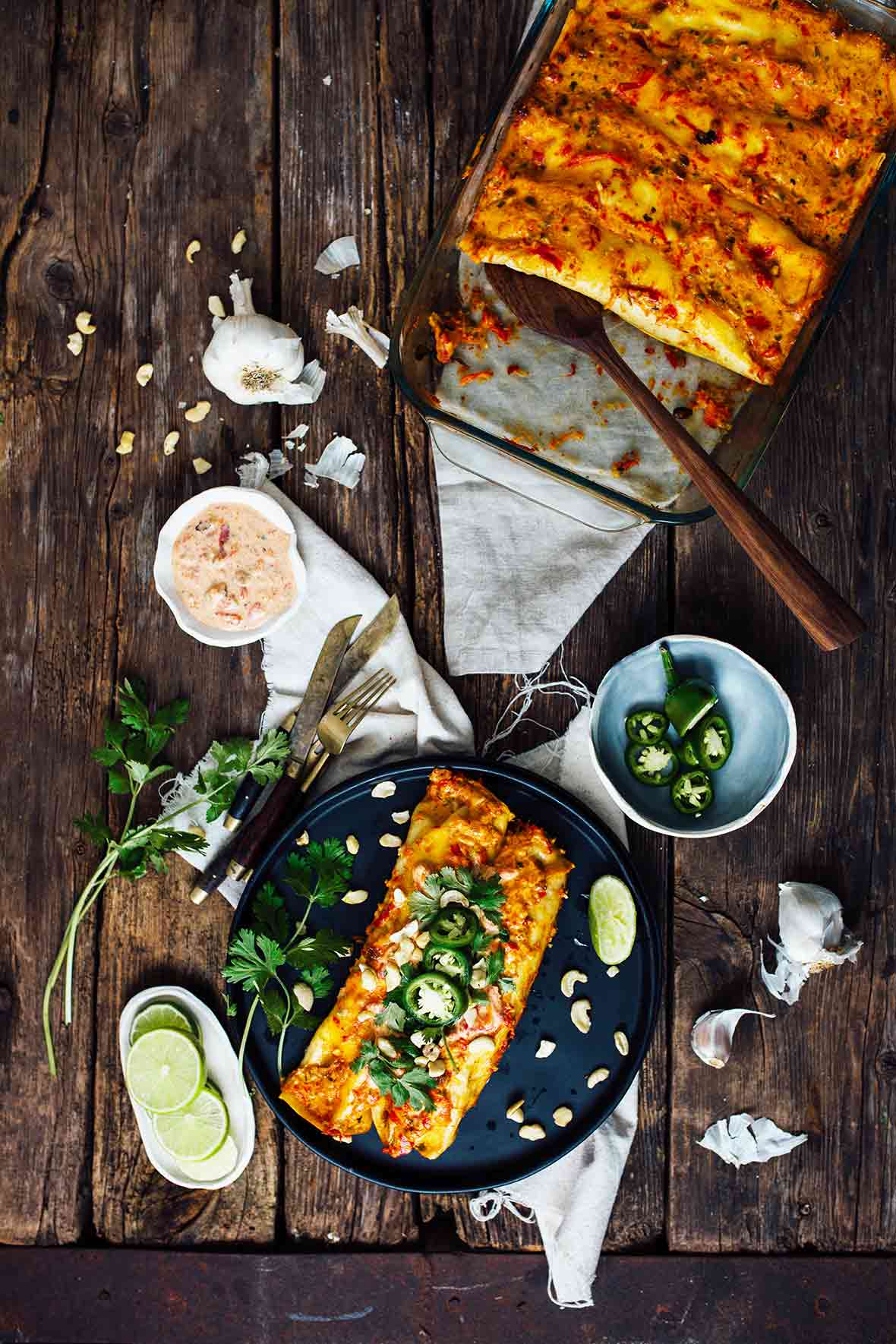 Loaded with sweet potato, black beans, and spinach and smothered in a simple yet satisfying enchilada sauce, these vegan enchiladas are definitely not your typical enchiladas although they're unexpectedly satisfying. And they're still gonna garner raves from everyone.–Angie Zoobkoff
Sweet Potato Enchiladas
Quick Glance
30 M
1 H

Serves 4 to 6
Print Recipe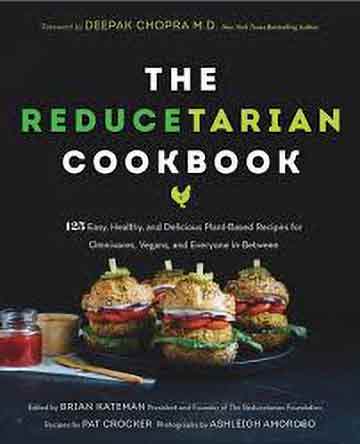 Ingredients
USMetric
For the enchilada sauce

One (4- to 5-ounce) jar roasted red bell peppers, drained

1 cup store-bought or homemade vegan mayonnaise

1 clove garlic, minced

1 jalapeño pepper, finely chopped

1 cup store-bought or homemade salsa

1/4 cup golden raisins, finely chopped

1/2 teaspoon ground cinnamon

1/4 teaspoon ground allspice

For the enchiladas

1 medium sweet potato (14 oz), peeled and cut into 1/2-inch (12-mm) dice

2 tablespoons avocado or grapeseed oil

1 red onion (7 oz), chopped

1 red bell pepper (7 oz), chopped

1/2 to 1 serrano pepper, chopped (optional)

3 cloves garlic, finely chopped

1 cup store-bought or homemade salsa

2 cups chopped spinach, kale, Swiss chard, or bok choy

2 cups cooked black beans or one (14-ounce | 400 g) can black beans, rinsed and drained

Sea salt and freshly ground black pepper

2 1/2 cups Enchilada Sauce (recipe above)

8 soft corn or flour tortillas

To serve

1 cup Avocado Dip* or store-bought guacamole

1 cup vegan plain yogurt

1 cup whole cashews

1/2 cup chopped fresh cilantro or parsley

1 tablespoon freshly squeezed lime juice
Directions
Make the enchilada sauce

1. Finely chop the roasted peppers and set them in a strainer or colander in the sink to drain.

2. In a medium bowl, combine the mayonnaise, garlic, jalapeño, salsa, raisins, cinnamon, and allspice. Stir in the drained peppers. You can cover and refrigerate the enchilada sauce for up to 1 week.

Make the enchiladas

3. Preheat the oven to 350°F (175°C). Lightly oil a 9-by-13-inch (22-by-33-cm) baking dish.

4. Place a medium saucepan of salted water over high heat and bring to a boil. Add the sweet potato, reduce the heat to medium-low, and simmer until tender when pierced with a knife, 10 to 12 minutes. Drain.

5. In a large skillet over medium-high heat, warm the oil. Add the onion, bell pepper, and, if using, serrano pepper, and cook, stirring frequently, until soft, 5 to 8 minutes. Add the garlic and cook, stirring frequently, for 3 minutes.

6. Add the salsa and bring to a simmer. Stir in the spinach and beans and cook, stirring frequently, until the spinach wilts, 2 to 4 minutes. Remove from the heat and stir in the sweet potato. Season to taste with salt and pepper.

7. Spread 1 cup enchilada sauce evenly in the prepared baking dish.

8. Spoon 1/2 cup sweet potato mixture along the center of a tortilla, leaving about 1 inch from the top and bottom edges. Fold the 1-inch top and bottom of the tortilla slightly over the filling. Then fold the right side of the tortilla over the filling. Rotate the tortilla 1/4 turn clockwise. Using 2 hands, gently but firmly squeeze the covered portion of the enchilada towards you and then roll the entire enchilada away from you to form a tight cylinder. Place it, seam side down, in the baking dish. Fill and roll the remaining tortillas in the same manner, placing them seam side down in the baking dish.

9. Spread as much of the remaining enchilada sauce as you'd like evenly over the enchiladas, and if you like things a little saucy, use all of it! Bake until the enchiladas are warmed through, about 20 minutes.

10. Serve with the avocado dip, vegan yogurt, cashews, cilantro or parsley, and lime juice, if desired.
Avocado Dip
*We've got no issues with traditional guacamole. But perhaps you switch things up and try this creamy vegan avocado dip. Simply mash together 2 tablespoons fresh lemon juice, 2 ripe avocados, 3 tablespoons vegan mayo, 1 or 2 finely chopped garlic cloves, and sea salt and hot sauce to taste. Garnish with cilantro.
source https://leitesculinaria.com/221938/recipes-sweet-potato-enchiladas.html